JIM SHOCKEY'S STORY
Read a story about happenings at
The Next Ridge

.
Moose Hunt Heads to Newfoundland

I'm standing in the western highland mountains of Newfoundland. It's absolutely beautiful here. We managed to find fall again after being chased out of the Yukon by winter. It's real pretty up here. We landed in a place called Deer Lake on the west side of Newfoundland. From there we took a helicopter out into the middle of the wild lands of Newfoundland. While we were flying out we counted at least 30 different moose. Apparently this is the highest density of moose in the world, right out in this area. Lots of moose hunters on the airplane from Toronto, probably 20 moose hunters out of the 50 passengers, so it was really fun on the airplane. Spectacular, really rugged country, I was quite surprised. All of the hunters leaving our camp were successful. I'm with Next Ridge Outfitting Company Ltd. Nice people I met at SCI last year. They take 20 or so moose hunters a year and they have a fabulous area here. Middle of the rut, windswept spruce trees all around, a lot of bog areas that are grassy and tops of the hills are all alpine and the moose are everywhere. The other day they had a cow and a calf 20 feet from camp and the cow came up and started rubbing against the tent. I'm really excited about this. We're going to try to get one with my Alpine bow and T/C muzzle loader. Eva is here with me. Matt Gibson is the cameraman. I'm excited because I love moose hunting. Before this I had to fly out of the Yukon and into New York City for a meeting with Discovery Channel. Can't tell you much more than that, but it's nice to be contacted by a network like Discovery. We'll see where that leads. On to more moose hunting ... Stay tuned!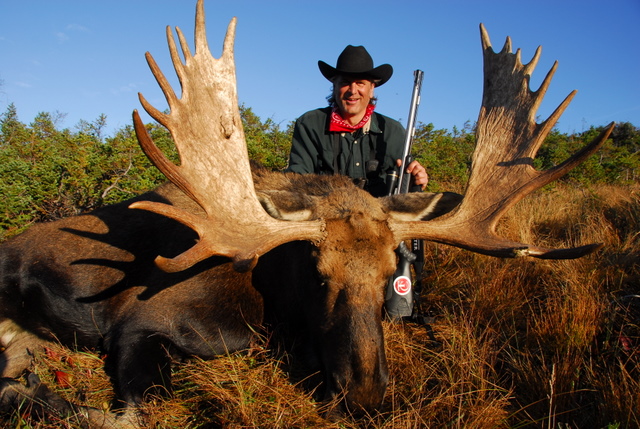 So Many Moose, So Little Time

But in the wild lands of Newfoundland. We had a beautiful blue sky day and we started seeing moose within five minutes' walk of camp, and by 15 minutes walking we had seen four different bulls and about six cows. It's amazing; I've never seen this many moose ever. We're way up high in sort of grassy boggy country and then there are ravines of real heavy thick spruce and then patches of spruce on the mountainsides. I've never hunted moose in country quite like this before. Walking is tough because it is so boggy. By noon we had probably seen 30 different bulls and cows. We made several stalks, but once you get in the thicker stuff, you can't see. It doesn't look like it's that deep from across the valley, but once you get over there it's all sort of head high and you can't tell when you're right up against them. But we did manage to get 21 yards from a younger bull. I had my Alpine bow drawn and was almost going to take the shot and it just wasn't big enough. Eva had a good bull that we almost got at about 100 yards, but it stay in the open long enough. We saw several other good bulls, but just couldn't get on them. Our guide Ernie is excellent; he's 60 years old and really knows his stuff has been doing this for 40 years. Had lobster and scallops last night. Tonight is pork chops. I'm told this is the best food in all of Newfoundland outfitting ... Tomorrow we'll get after these bulls. It's just a matter of time. Excellent people. We walked about seven miles today. Eva did great.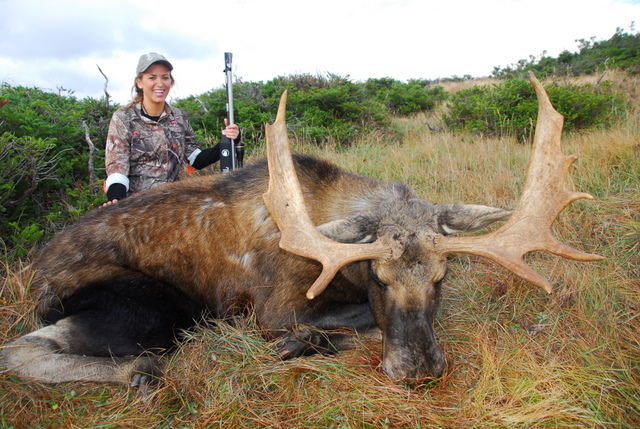 The Next Day ... Eva Connects!

Fantastic day today. We left early this morning walked about a mile in boggy country wearing rubber boots; it's a lot of work. About three miles farther on we spotted a great big bull moose with two cows and a smaller bull way up in the mountains, so we decided to go after it way up in the highlands, climb, climb, climb through the bog we checked our GPS's when we thought we were close and it was exactly 4.1 miles as the crow flies back to our camp. Tough slogging then we climbed up higher, we spotted him, bumped into a smaller bull, but then, long story short, we messed up, we didn't get a shot at him, didn't even see him. They were in really thick, thick bog country. You couldn't see 10 feet in there. Then we had no choice but to go all the way back heading toward where we were planning to go this morning so about 3 in the afternoon that was another good four-mile walk anyway, so we spotted a bull in a good position, made a stalk, got there within 50 yards, but all you could see was part of his shoulder and his head and his neck and his back. To get the gun low enough on the shooting sticks for Eva to take the shot she had to stand on my feet and up on a hummock to try to get high enough so she could get the shot down low enough in the vitals. She made a perfect shot, it turned around and tipped over dead in about 10 seconds. Beautiful little bull, not the biggest bull in the world, but still a great bull 40 inches wide, and just a super bull for Eva. She was ecstatic, she said it was the most exciting thing she's ever done. She's been a trooper. We walked at least 10 miles today, she had a couple of blisters on her feet, but she had a big
smile on her face and said it was so worth it because of all the work she did to get the animal. She said this is the first animal she's really earned by hard work, so we're thrilled. Tomorrow we're going to head off in a different direction and see what we can see. There are some really big bulls here too we're going to keep our fingers crossed. Now it's my turn ...

T/C Pro Hunter and Alpine Yukon Bow Strike in Newfoundland

Another great day today. Eva opted to stay in today. We headed back into the mountains. Not so far as walking yesterday, but lots of up and down stuff. Climbed up a mountain. Spotted one great big bull first thing this morning by himself across a bog. Tried to sneak down toward him, couldn't get at it. So we figured he had bedded somewhere in there and we'd come back in the evening tor try for it again. It was really big. Went to the other side of the mountain spotted another bull with two cows. Wasn't real big, but then we spotted another one with a cow and it was a real big moose. So we decided to go after that one; climbed all the way down the mountain, made a big giant loop to get the wind right came in on him got within 50 yards. But it was so thick ... spruce that is all twisted. Tough to walk through and when it's 6 feet high you can't see the moose. The guys up on the hill were signaling us with their hands that we were close, but eventually the wind shifted and he took off running. I had a shot with a muzzle loader at 180 yards, but I wouldn't take it because it just wasn't a good shot. Then went after the other one. Made a long stalk with my Alpine bow, got within 50 yards, never saw him. Then it was getting evening went all the way around to where we saw the bull in the morning except from the bottom up. And then the guys were on the far ridge and they saw the bull. And they started calling so we knew they had seen the bull, then we saw their signals and we went in by hand signals back toward the bull, and all of a sudden there he was 100 yards wide open. I totally missed! I don't know what happened. I thought I was dead on him. I was shocked. The bull just turned and looked at us. I had enough time to reload my T/C Pro Hunter and shoot again and this time we got him. About 100 yards, we got him, and he's magnificent ... 10 points on one side 9 on the other. Beautiful big bull long tines, perfect lighting, great footage. Bernie is 10 times tougher at 60 years old than I was at 40, he can walk and walk and walk. We were talking last night how wonderful it is to be in a place where you know everybody is trying their hardest to get the animals, they always tell the truth and just working hard and you know there are animals. It's a tough hunt, gotta be in good shape, but a magnificent hunt, true North American classic hunt!

The text on this page is an excerpt from Jim Shockey's Blog and is used by Next Ridge Outfitters with his expressed permission.